Iridium Quant Lens decodes Earnings Calls language
The Iridium Quant Lens NLP algorithms quantify the language used during earnings calls.
We introduced this data science last year (see: Sentiment Quantified) to explore sentiment trends in the immediate aftermath of the pandemic. In this new report, we revisit this topic to investigate how sentiment trends for GCC listed companies have evolved. For this quarter, we analyzed earnings calls from 1 July to 31 August 2021 (FQ2 2021) for 80 listed companies, representing 73% of the GCC's total market capitalization.
What is management telling us?
Net sentiment, the difference between positive and negative language used during earnings calls, is now back to a level prevailing in 2019, having climbed for five consecutive quarters from its all-time low of 1Q 2020, when the pandemic was at its most disruptive.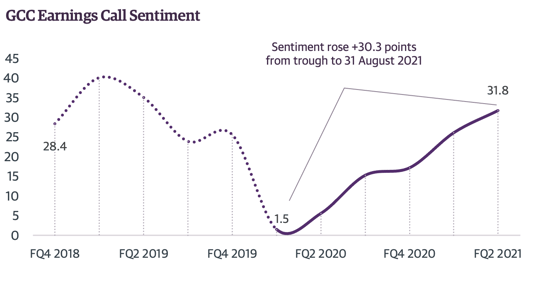 The improvement in sentiment was widespread across all GCC countries during the last year, with the most remarkable recovery in Saudi Arabia, followed by the United Arab Emirates, where sentiment now stands at its highest point since 2015.
The rebound in sentiment coincides with a sharp reduction in the number of mentions of Covid and other health-related words in earnings calls and undoubtedly reflects improving corporate profitability as well as the recovery seen in regional equity markets.
On an industry basis, sentiment also improved across all sectors, albeit with more variability in the overall rate of improvement. Sentiment rebounded the most in the Financials, Real Estate and Materials sectors.
By contrast, the Industrials, Consumer Discretionary and Energy sectors were more muted in their recovery, a potential indication of the ongoing impact of covid on these sectors.
Is management sentiment racing ahead of analyst and investors?
While the market welcomes the continued rise in sentiment, there is an elevated risk that companies could fall back into the old habit of becoming "over-bullish", a factor revealed by measuring management's "Sentiment Bias". This measure tracks the difference in sentiment between the language used in management presentations and the Q&A sessions with analysts and investors.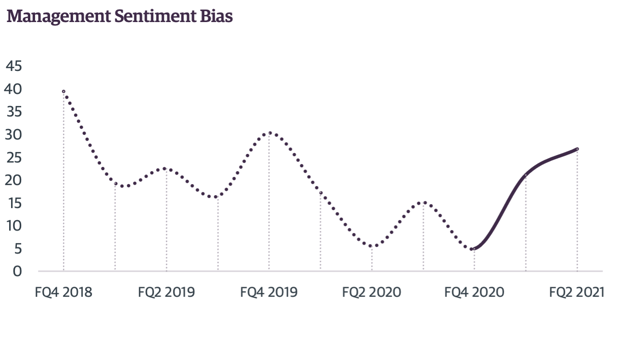 Sentiment Bias declined during the onset of Covid in early 2020 as management teams generally took a more sobering and realistic view but has increased rapidly since the fourth quarter of 2020 from 5 to 27 points. This indicates that management positivity has raced ahead of the analyst and investor community.
High sentiment bias could be a warning sign: Left unchecked, an imbalance between what management says and how investors interpret that sentiment could damage management credibility and reputation and a fall in the market's trust in the company, sector, or country.
About Iridium Quant Lens: AI-powered Earnings Call Analysis
Our proprietary natural language processing algorithms automate earnings call analysis by quantifying language at a scale and speed that is impossible to replicate by the human brain. To date, we have processed over 4.6 million words from 871 earnings call transcripts of 135 listed companies across eight stock exchanges in the GCC region since 2015. The algorithms generate unbiased insights from the sentiment expressed by management, analysts and investors, the language complexity used, as well as the number of financial metrics conferred during earnings calls, and cross-correlate the results to earnings surprises.
For more information, please contact us at ir@iridium.ae